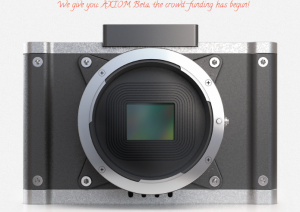 https://www.apertus.org/axiom-beta-crowdfunding-launch
AXIOM Beta: The first open digital cinema camera
apertus° was started by filmmakers who were fed up with the limitations of the tools they had to work with every day. Compared to 50 years ago, cameras today are technologically far superior, but at same time a lot less accessible. AXIOM Beta intends to fix that. Full and open documentation, the ability to add new features, change behaviour of existing ones and to use any custom accessories are intended and plausible goal of AXIOM Beta.
The plan is to democratize camera technology and put the power back into the hands of the users. It is a self liberation by creating high end tools that we ourselves loves to work with – fully independent of any of the big established camera corporations. The time has never been better for such a revolution than it is today!
By contributing to this project you enable the evolvement to a new stage of cameras, a whole new world of possibilities. Your ideas and experiences will help us advance AXIOM in the future. The crowd funding backers community will play an active role in deciding where the AXIOM development is heading.
Posted on: Wednesday, September 10, 2014 by:
OSVideo
in category:
Collaborative filming
,
Copyrights and licenses
,
Hardware
---