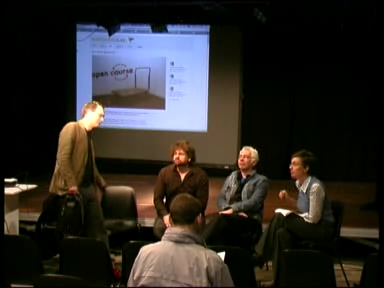 Find here a video registration of the conference 'Free software in education', which took place in the context of the yearly festival Journées du libre, on
9 may 2009 in the Maison des Cultures de Saint-Gilles in Brussels.
In this framework, Constant invited teachers connected to various art and design schools to discuss the way open content licenses and free software find their way in the courses they are currently teaching.
Why do they think Free Culture brings something important to art and to education? What is the difference free software can make in this context? How do they think the situation will further develop?
With:
Marc Wathieu: artist, teacher of digital arts at ERG (École de Recherche Graphique) Brussels, and visual communications at HEAJ (Haute École Albert Jacquard) Namur. http://www.multimedialab.be

Stéphane Noël: artist, teaching digital arts at ERG, active in the SPIP community.
Loic Vanderstichelen: director of short films, teaching infographics at l'Ecole d'Art d'Uccle.
Michel Cleempoel: artist, teaching digital arts at Ecole Supérieure des Arts plastiques et visuels (ESAPV), Mons
Moderated by Constant and OSP member Femke Snelting
Direct link to file:
http://video.constantvzw.org/JDL/jdlmedium.ogg
48 mins., 160 mb, ogg/theora, 384 x 288,
download and play with VLC
Registration is licensed under the Free Arts License
Posted on: Tuesday, May 26, 2009 by:
Peter
in category:
Copyrights and licenses
,
Films and Projects
,
Software
---