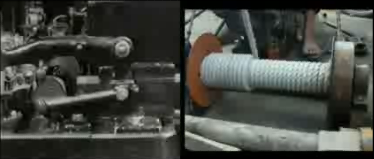 Image left: Vertov, image right uploaded by Jerome Ming, Hanoi
Man With a Movie Camera: The Global Remake is a participatory video-work to which people around the world are invited to contribute by capturing videos that interpret the original shots of Vertov's film Man With A Movie Camera and upload them to the website.
The website contains every shot in Vertov's 1929 film. A viewer on the website displays both original and newly uploaded shots playing side by side. The uploaded shots are rotated each day.
The original Man with a movie camera is in the public domain and can be found on Archive.org
Perry Bard, the artist who initiated the project, answered some questions in a short email exchange.

Q:
Your project shows that films residing in the public domain can have great potential for artistic re-use. How did you become interested in reworking Vertov's film into a web based project?
A:
I've never done anything like this before, the project grew out of an interest in documentary film and in public space.
In 2000 I set up a screen in the Staten Island Ferry Terminal Building in New York to present The Terminal Salon, a portrait of the community done in collaboration with local residents who shot all the video. When we were testing the projection passersby asked how they could be on the screen and I had no way to do that.
While I was working on The Terminal Salon I was invited to participate in VideoArchaeology in Sofia. My Staten Island project was taking so long (over a year), I had to go to Sofia with a plan and I decided to re-shoot four minutes of Man With A Movie Camera in collaboration with the Bulgarian artist Boyan Dobrev, who wanted to learn about video. Sofia in 1999 was in a transition and I thought the parallel to the film could be interesting. Putting those two experiences together led to my proposal for Man With a Movie Camera. The film is a great point of departure for the internet because it has so many dimensions from the documentary to the performative to the effects along with its use of an archive which translates to a database. It seemed like a perfect vehicle for global input and in keeping with Vertov's intentions as a filmmaker.
2008: Man With A Movie Camera was a Bigger Picture Commission funded in May 2007 to premiere in conjunction with the Urban Screens Conference in Manchester. So when I launched this piece I was really thinking of making a connection between virtual and physical space, then other opportunities came along and I found that the project is infinitely adaptable. On flickr there are shots of it installed in other locations, it's different in different kinds of spaces.
Q:
What is the project's policy on copyright if the uploaded fragments?
A:
It's all public domain, but no-one had asked me that yet, I thought it would be commonly understood. I have now spelled it out on the website.
Q:
What does that mean for the resulting film? Is that also public domain?
A:
… sure the work is public domain, that is: anyone can show it as it exists on the web. I have a high quality file that we use for large scale projection and any pennies we might get from that go back into the project, for example: they paid for the Spanish translation to show it at the Las Palmas film festival.
I'm not worried about someone else claiming the project if that's what you mean.
Q:
When you look at the shots that people uploaded, they are very harmonic; often mirroring or visually echoing the originals shots. Not often are the originals contested / contrasted with counter-images. How did that happen? Did you somehow communicate with up-loaders about that? Are the uploaded files 'curated' in any way?
A:
No curating involved, it's the software that archives, sequences and streams the uploads, and all uploads are accepted. For the moment shot 22 for example has 9 uploads which you can all see if you go to the 'see all uploads' link of that shot. A different choice of shot will play each day in rotation. On the intro page I invite interpretation, I'm hoping more of that will happen. I've given some workshops and I encourage interpretation but it is more work than making contemporary versions of the original. I think the quality of the uploads is surprisingly good for a project that's wide open, I think that's maybe because the people who find the site are already interested in film /new media /mash-ups etc., and because participating in the project somehow asks a little bit of engagement with the content, it doesn't invite people to grab a shot of their cat from their desktop.
At some point I'll make a director's cut DVD, so even when the software used for the web project might become obsolete in the future, a good quality version will be preserved.
Q:
The project was presented at Transmediale 2009, and it is true that seeing the video screened bigger and in good quality is very pleasing, although I also remember the cloth it was projected on was somewhat on the bright side …
A:
… yes that was unfortunate, but I had nothing to do with the installation. But Transmediale put a link to my website on their site, and as a result of that I got a lot more uploads and the essence of the project is more and more uploads so I'm really grateful to them for nominating the piece.
Q:
Would it interest you if the resulting film / the uploaded video material on its turn would be re-interpreted in some other project?
A:
Why not? I launched an idea, I can't see that building on it would hurt …
Q:
Would it make sense to you to attach an open content license to the uploaded work and/or the project?
A:
Archive.org , Blip.tv, and others, these are all service providers and I don't see my project in the same realm at all, though the question of creating a database as an artwork interests me and I'm thinking along those lines now. I have no definite answers but by doing projects such as 2008: Man with a Movie Camera I am questioning the possibility.
Thanks to Perry Bard. For a more elaborate in-depth discussion please see this Rhizome interview by Evelin Stermitz.
Posted on: Monday, March 2, 2009 by:
Peter
in category:
Collaborative filming
,
Films and Projects
,
Hardware
,
Manuals
,
Media archives
,
News
---