We spent some saturday afternoon time installing the current version 1.2 of the Internet tv application Miro. Christina installed it on her G4 Power mac running Mac OSX 10.4.10 and I updated at the same time an old version 0.9.8.0 Beta on my Linux Ubuntu box. After a smooth upate from the Synaptic package manager and equally smooth install from the Miro download page an immediately visible difference to older versions is the IHeartMiro pop up window.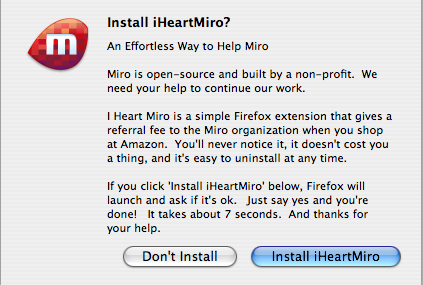 Fundraising
It asks if we want to install an add on to Firefox: everytime you shop at Amazon, a small portion of the money you pay will be sent to Miro:
The IheartMiro page explains:
The IHeartMiro extension takes advantage of Amazon's affiliate program and makes it so every time you shop at Amazon.com, a small portion of your purchase is donated to the Participatory Culture Foundation, the non-profit charitable organization that makes Miro.
Besides the 'IHeart' add on, Miro has launched another Firefox extension named Effortless Good
Like I Heart Miro, it's a simple Firefox extension that inserts an affiliate code when you shop at Amazon (US, UK, Japan, France, Germany, or Canada). The income from that affiliate code is collected by PCF and distributed among four effective non-profits: Save the Children, Grameen Foundation, Rainforest Alliance, and, of course, Miro.
Xine or Gstreamer vs. Gecko
There seems to be some aspect ratio problem on my computer, the video's are shown in a vertical bar. I looked a bit on the web and it looks this might be related to Miro's render engine which is by default Xine (on Linux). A workaround could be to change the render engine from Xine to Gstreamer. For the previous version I had to go into the VideoDisplay configuration and change the preferred renderer. In the 1.2, changing renderer can simply be done through the Preferences (or: options as they are still called) Look at the pictures below: with Xine I get a squeezed image that is unrecognisable, choosing for Gstreamer makes it already lots better, … but still it has the wrong aspect ratio. This I will have to solve some other time. Due to this Xine viewing problem which I had already for some time, I have used Miro up till now, mainly for organising my video downloads.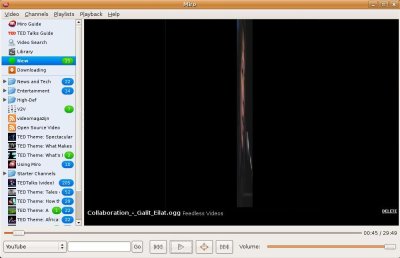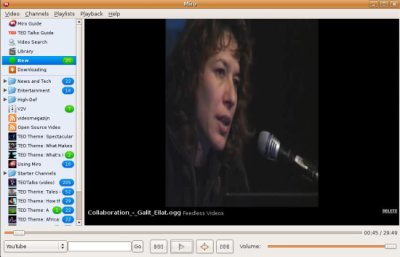 On MacosX, Miro uses the open source Gecko render engine, which ran perfectly, without problems.
Direct access to downloads
Under linux, Miro saves movie files in home>user>.miro>Movies. To get to the Movies folder, I have to tell my finder that I want to view hidden files (starting with a dot). Because we compared the installation on the Mac with the already installed old version on Ubuntu, we assumed it would store files the same way, and we would also have to proceed the same way. Two things we did not know: One: this is not the case. Two: In the preferences of Miro 1.2, the folder where the files are stored can easily be changed.
But let's report on what we did before discovering this. First of all we made the hidden files visible on the home folder of the Mac. We followed these instructions.
In summary, this is what you do:
1 in the terminal, type:
defaults write com.apple.finder AppleShowAllFiles -bool true
2 Relaunch Finder / log out
To hide the hidden files again:
1 Type:
defaults write com.apple.finder AppleShowAllFiles -bool false
2 Relaunch Finder / log out
It was an amusing, but pointless exercise: Little did we know that on OsX, Miro stores the video files straight in the Movies folder which is always visible anyway.
Mac prob
There seems to be a known issue when using Miro on a Mac; which is that when you go from 'Video Search' up to Miro Guide, the channels do not load. But they do load if you then click on 'home' in the top bar.
After finding that other people seem to have the same experience, which is always a comfort, and we assumed, without verifying somebody would already have filed a bug report on this, we continued our queste without resolving the issue.
Ways to agregate a RSS
Miro publishes a 'how to make internet tv' guide for beginners on the MakeInternet TV website. The site contains a very simple step by step instruction that goes from shooting video to distributing and promoting the video online.
The easiest road is to upload your video to a video platform; grab a RSS feed of your video files, and add this feed as a channel to Miro.
How does this work if You don't want to use an online video platform, but from a video weblog?
The above instructions tell me I could make a videofeed out of the RSS textfeed that is automatically generated by wordpress, by going through the Feedburner service. I am not thrilled by the prospect to depend on a Google owned service.
Can this be done differently?
Strangely enough an option that is not mentioned in the guide, is developed by the very same Participatory Culture Foundation that is behind the MakeInternetTV guide itself … :
Videobomb is a publishing platform to which you can add URL's to media files from which you can than make a RSS Feed that can be fed to Miro.

That sounds exactly like the service I was looking for. I made an account, added some video URL's and got this very disappointing message: "It looks like your media type is an ogg.!" Well, yes ! the idea was to upload open source encoded Ogg/Theora video.
This requires further looking into: subject for yet another post … In the mean time: A nice essay about RSS feeds can be found on the Miro site: it is an elaborated email from PCF's Nicholas Reville to Mike Hudack at Blip.tv, arguing that in the future people should be central to web video, not big companies.
Posted on: Monday, April 7, 2008 by:
Peter
in category:
Media archives
,
Software
,
Workshop Open Video Libre
---