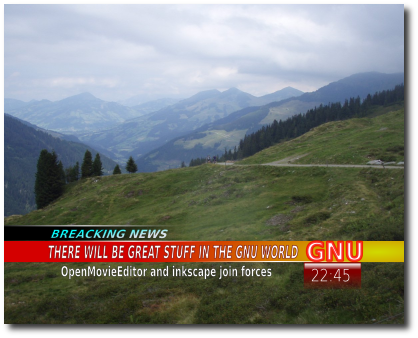 Check out the (relatively) new blog: Open Movie Editor News by Open Video enthousiast and developer of the open source video-editor Open Movie Editor Richard Spindler.
Open Movie Editor is a video-editing software for Linux which can be downloaded here
Some nifty tips and articles on the blog; among others Richard has been fiddling with making titles for video in the popular drawing soft Inkscape, you can download SVG files of tests he made, open the files in Inkscape, adapt to your taste. Quite useful if you don't want to start from scratch.
More later on the editing software itself, looking forward to giving it a good test.
Posted on: Wednesday, June 18, 2008 by:
Peter
in category:
Editing software
,
Manuals
,
News
---