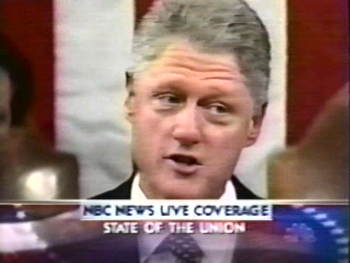 The memorable video remixes of State of the Union-speeches, made by Texas based video artist Aaron Valdez can be found on his website..

All video's on that site are "made available for free exchange and/or duplication for non-commercial home viewing and educational purposes." Video's are licensed under Creative Commons Non-Commercial Share Alike attribution. So: do download and go to work!
Currently Valdez makes videos for Wreck & Salvage with co-conspirators Adam Quirk and Erik Nelson. Wreck & Salvage is a collective of three like-minded video artists. Utilizing "original video and traditional, keyframe, and stop-motion animation to make some of the weirdest, funniest, thoughtful, unique, and visually stimulating videos on the net. We also repurpose web videos, screencasts, VHS tape, surveillance video, MIDI, animated gifs, and other forms of new and old media technology."
Their portfolio shows an interest in re-appropriated web video, including some remixes of Prelinger Archive films. Such as this endearing robot clip.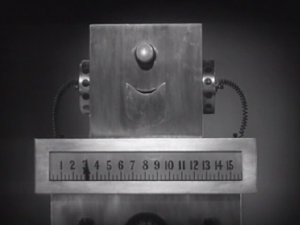 For more remixes of Prelinger films, there is a whole section of remixes on Archive.org, and the ones by W & S are among the most interesting ones.This clip, featuring the same robot in the role of a dedicated husband is funny too.
If you are interested in the politics of culture jamming, you might find this article in Res magazine interesting, containing links to some other artists chopping up Bush clips, such as Chris Morris, Jen Simmons and Sarah Christman's, Atmo and
Saam Farahmand.
Looking forward to see more of the Wreck & Salvage team soon!
Posted on: Monday, February 23, 2009 by:
Peter
in category:
Films and Projects
---