Stray Cinema is an open content filmproject. The idea behind it is that people from all over the world can download and re-edit raw footage, they make different films using the same footage. The films are then uploaded and voted on by the community. Stray Cinema organises 'real world' screenings of the top five films. The first one will take place in New Zealand on the 23rd of September 2008.

To get a taste of the atmosphere of such a screening and view the results of last years competition: click on the still below to see a video report in OGG video format of the modest screening venue of the first version which took place in 2007 here: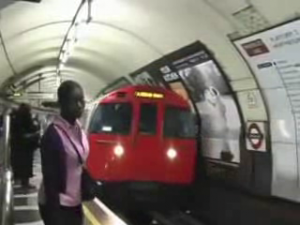 Or copy http://osvideo.constantvzw.org/wp-content/uploads/stray07_vod1.ogg in your VLC or Mplayer mediaplayer.
The Stray Cinemawebsite uses Flowplayer, a GPL 3 compliant Flash / h.264 video player, see: http://flowplayer.org/
Reading the Faqs, a few things catch the eye: The contributors work with low quality material which can be downloaded in Mp4 format here. These films can than be liberated to an open source format such as Ogg/Theora or Dirac, and reworked with your favorite Open Source edit tool, the Faq page mentions Kino (you will have to convert the downloaded mp4 to DV first) or Lives, but using timeline editors such as Cinelerra and KDenlive would save conversion work.
In case your final film gets voted as one of the best five, you have to redo your edit using high quality material. To facilitate this: make sure you work with an easily editable export format or edl; that way you can replace the names of the low quality by the names of the high quality clips.
Some questions can be asked on the level of openness of the project (propriatory video-codecs, using YouTube as a popularity tool, etc.) but Stray Cinema seems a sympathetic energetic project worth checking out. Looking forward to the results of 2008 !
Posted on: Sunday, June 1, 2008 by:
OSVideo
in category:
Collaborative filming
,
News
---