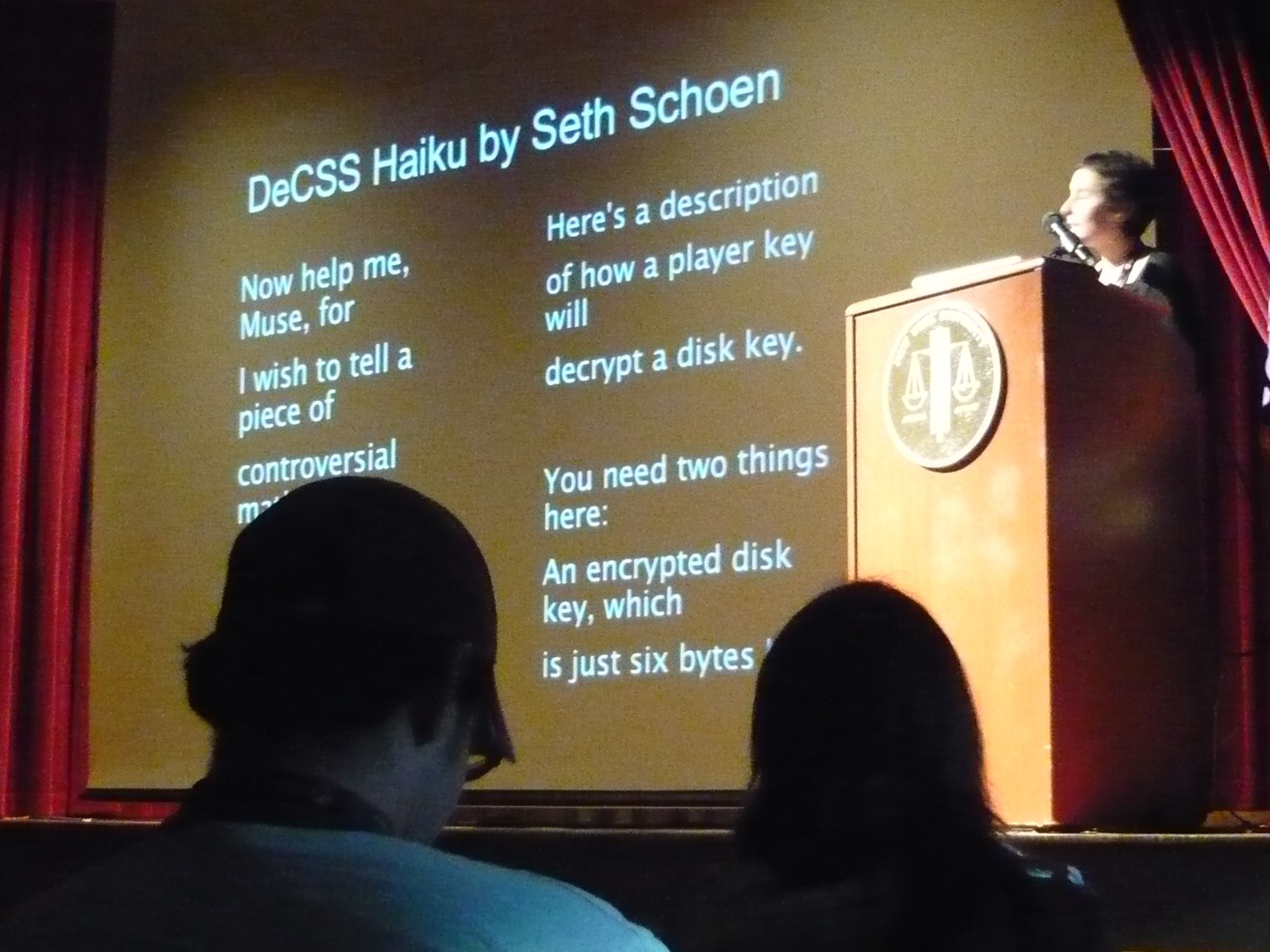 Witnessed during the Open Video Conference in NY, 19 june 09,

The Politics and Poetics of DeCSS: Featured Talk – (5:25 PM – 5:45 PM)

Here's an audiorecording in ogg/vorbis of the firy and energising talk given by Gabriella Coleman on the moral and ethical importance of the DeCSS tool. She makes beautiful links between freedom of speech, poetics of code and te importance of linguistic expression.

http://osvideo.constantvzw.org/wp-content/uploads/gabriella_coleman.ogg

Nothing exceptional I know, you can get the video from the website of OpenVideoConference, with much better soundquality, but nothing beats a good old non authorised recording in a non-flash format.
More important: the official registration didn't capture the sound of a bag of crisps that opened with a loud 'plof' on the third row.

Description: In this talk, NYU Steinhardt professor Gabriella Coleman visits the protests surrounding the DeCSS arrest and lawsuits that unfolded between 1999 and 2003 in order to examine when and how a new vibrant free speech sensibility was cemented and refined among Free and Open Source developers. Contained within this story are important lessons about the role of conventional protests and unconventional protests (in this case, in the form of poetry and art) for establishing this free speech ethic.

speaker: Gabriella Coleman — Assistant Professor, NYU Steinhardt School of Culture, Education, and Human Development
Posted on: Saturday, June 20, 2009 by:
Peter
in category:
Further reading
,
News
---